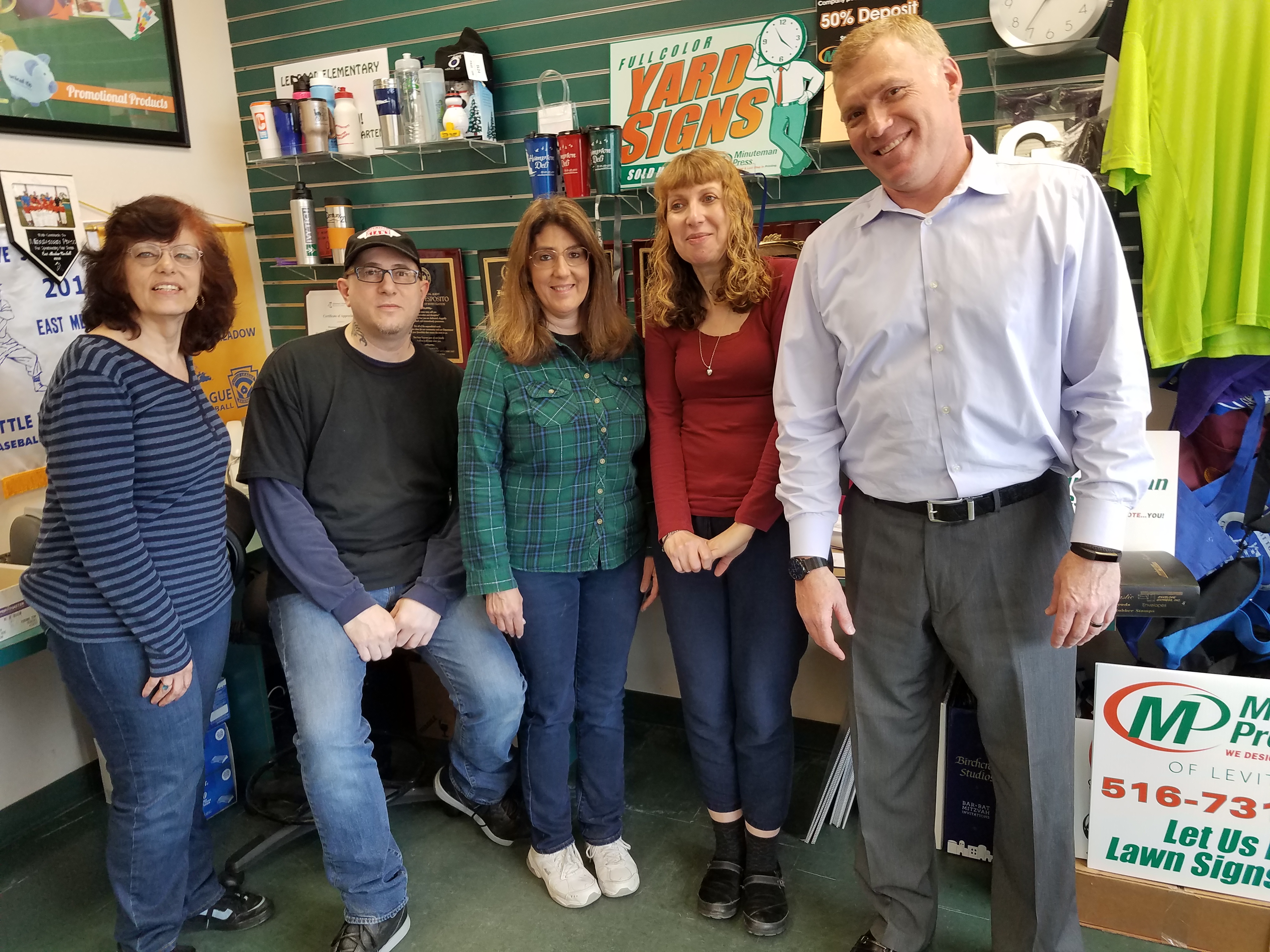 Meet the team of Minuteman Press in Levittown. From left to right: Diane Faiella, Nick Colameo, Mary Ann Smith, Eileen Arnow-Levine, and Michael Levy.
LEVITTOWN, N.Y.--The Minuteman Press franchise in Levittown, NY has acquired Fullstop Printing, an independent printing business that was also located in Levittown. The acquisition enables Minuteman Press to enhance their capacity to serve all of the design, printing, and marketing needs of today's business professionals.
Minuteman Press Levittown owner Michael Levy explains the benefits of the acquisition to new and existing customers, stating, "We will continue to offer all the quality products our customers have come to expect from Minuteman Press. By adding new equipment and technology, and with the addition of Diane Faiella to our team, we now have increased capacity to offer blue print printing, large format printing that enables us to print on-demand banners, posters, and signs, as well as some of our own newer technologies such as 3D printing, sublimation printing (short run/small quantity promotional items), and printing on wood and metal."
Michael continues, "Our combined companies have over 100 years of experience in the printing industry, allowing us to efficiently produce the top quality design, printing, marketing, and promotional items to help clients grow their business. Most importantly, exceeding customer expectations by providing the highest quality products with reliable and friendly service remains our top priority."
Michael Levy's Minuteman Press franchise is located at 3000 Hempstead Turnpike, Suite 114, Levittown, NY 11756. Their hours of operation are Monday-Friday from 9 am to 5:30 pm. For more information, call Michael and his team at 516-731-4892 or visit their website: www.levittown.minutemanpress.com
About Minuteman Press International
Minuteman Press International is a number one rated business marketing and printing franchise that offers world class training and unparalleled ongoing local support. Started in 1973 by Roy Titus and his son Bob, Minuteman Press began franchising in 1975 and has grown to over 950 business service franchise locations worldwide including the U.S., Australia, Canada, South Africa, and the United Kingdom. Minuteman Press is ranked #1 in category by Entrepreneur 25 times and 14 years in a row, including 2017. Franchise Business Review has also named Minuteman Press International to its 2017 Top Franchises and 2017 Top B2B Franchises lists thanks to positive feedback and reviews from owners.
At Minuteman Press, we are the modern printing industry, providing high quality products and services that meet the needs of today's business professionals and go way beyond ink on paper. Today, our centers offer innovative branding solutions and produce custom designs, promotional products, branded apparel, direct mail marketing, large format printing (banners and posters), signs, and much more. Prior experience is not necessary to own and operate a successful Minuteman Press franchise.
To learn about Minuteman Press franchise opportunities and access Minuteman Press franchise reviews, visit www.minutemanpressfranchise.com or call 1-800-645-3006 for more information.